What is the Name Combiner Tool?
Naming out a newborn can be a pretty hassling process, as everyone wants to name their kid a unique yet beneficial name. In this era, when most names have become common, finding a distinctive and special name can be challenging. At that same time, you are looking for a name combination generator. That's where the Name Combiner Tool helps you generate a unique name for your kid after combining several different names.


Moreover, sometimes, you might be confused while choosing between a few name choices for your business. In such situations, the NameCombiner Tool proves to be extremely helpful as it mixes up your name choices and provides a new combined name. The following context can guide you aptly regarding the usage of the Name Combiner Tool.
Creative Names For Business Brands and Companies
With so many businesses around, it can be hard to name your company with an apt yet individualistic name. If you don't want your business to get copyright strikes by other organizations, you must give your enterprise such a name that it should not match anyone else.
Finding a new name can be difficult, but with assistance from Name Combiner Tool, you don't have to struggle that much. All you need to do is to enter your few liked ideas into the Name Combiner Tool's generator, and by submitting it, you will be given an entirely new name with 0% plagiarism.
Domain Name Selection
A unique and distinctive domain name is as crucial as a business. If you don't choose the name aptly, your business may have a plagiarized or unbeneficial name. Moreover, the world wide web does not accept copied or too common domain names these days.
Usually, domain name generation can cost a hefty price, but at the Name Combiner Tool website, you get to have the un-plagiarized domain names for free. The procedure for attaining the domain name on Name Combiner Tool's generator is the same as the previous one.
Nickname Generation
Giving your loved ones a cute nickname is not a new concept. It can be easy to nickname someone with a common or short name. But when a person has a unique or slightly distinctive name, thinking of their nickname can be hard.
Furthermore, you may also want to name someone based on their personality or behavior. Therefore, the Name Combiner Tool proves advantageous in such situations as it allows you to generate someone's nickname based on their unique name, behavior, or personality.
Name Combiner For Baby Names
It is indeed the hardest part of naming a newborn that's why I found the name combiner for couples.
Naming a newborn is quite an intensive task, as you build the foundation of the newborn's personality by providing him with a representative title. That particular name will remain with the person for the rest of his life. That is why it must be a well-thought and properly considered one.
Name Combiner Tool is a perfect name combination generator that utterly understands the cruciality of this naming task and presents you with an all-advanced name generator. Using this tool, you can combine different names of your ancestors to get a new name that will be a mixture of them. Besides, if you are confused between a few names, you can use this generator as a middle way of name generation.
How to Use It?
Some people get confused thinking about how to use the Name Combiner Tool. But in reality, operating this name-combining tool is utterly easy. First, you need to go to the Name Combiner Tool website. On the homepage, you will find a generator that will demand you to enter up to four names.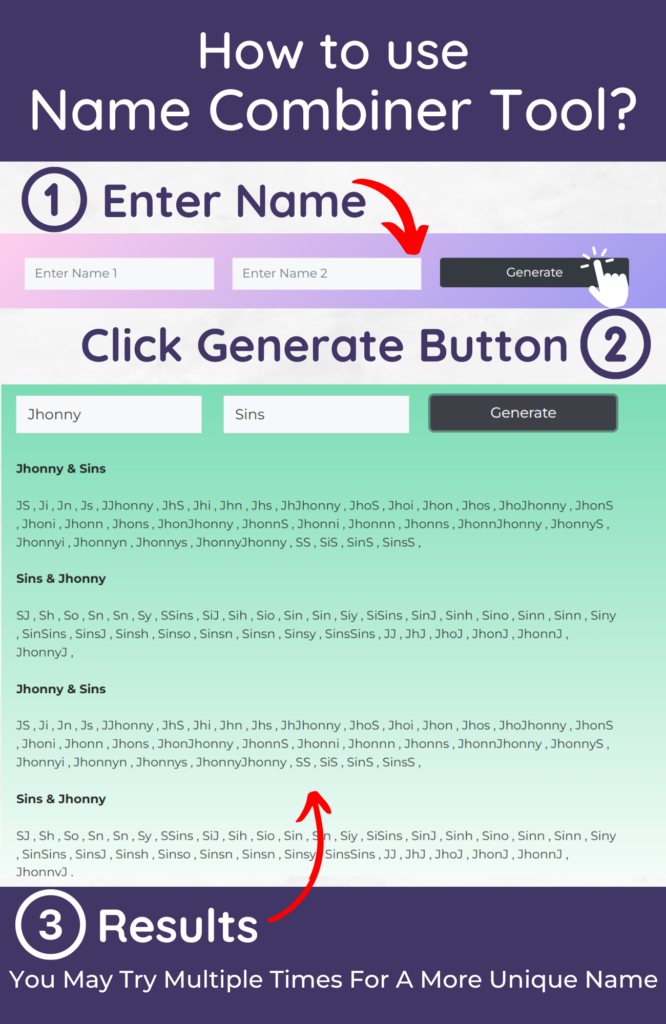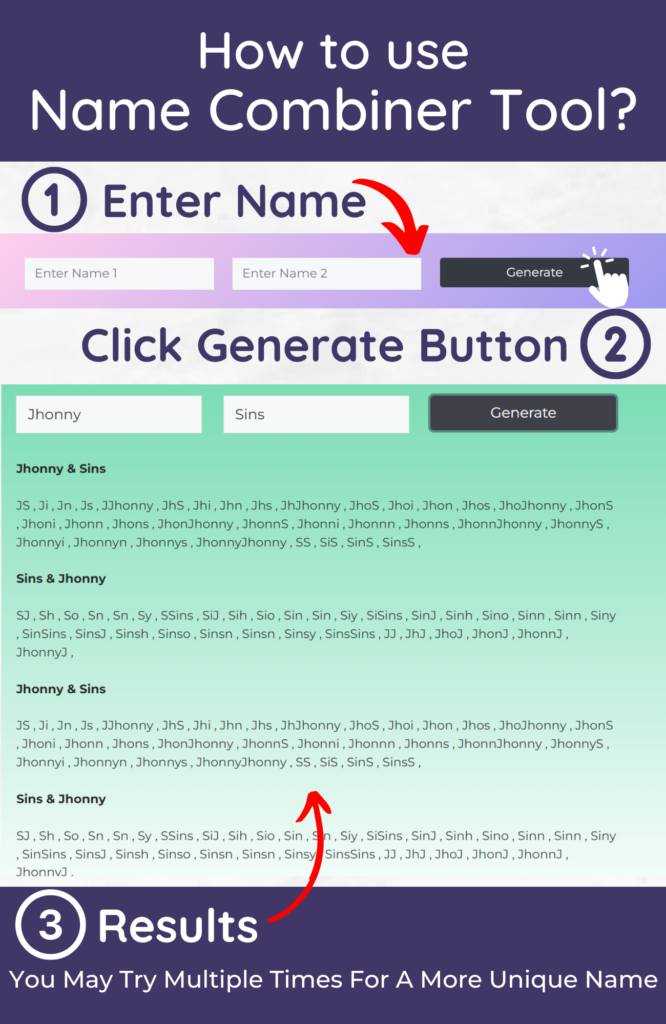 When you submit your chosen names for your business, domain, or baby Name Combiner Tool's advanced software will intellectually mix it up. Ultimately, you will be provided with the best-combined results that will be unique and un-plagiarized.
Frequently Asked Questions (FAQs)
How can I combine husband and wife names?
The Name Combiner Tool allows you to combine spouses' first or last names. You can do so by putting the names in the generator, and within seconds, you will be given the combined results.
How can you combine or mix two names?
Combining popular names to get a unique substitute is trendy these days. However, manually you cannot do this task aptly. An automatic generator like a Name Combiner Tool helps you by technically mixing up the names. The software of such applications is advanced and intellectual enough to give unique and unmatchable results.
What is the best name generator for a romantic couple's name?
If you want to give a couple a sweet yet romantic name or want to have one yourself, then for this purpose, you can try the Name Combiner Tool. The CombinerTool software will mix up the couple's name and produce a cute romantic combined couple title.
Can you combine Japanese names or names from other languages?
Yes, using the Combiner Name Tool generator, you can efficiently combine names from almost any language. Moreover, you don't have to worry about your name getting translated into English. The generator is smart enough to detect and read any language. It will provide the results in the same language in which you first entered the names.