If you are confused about choosing your baby's name or company, with this name combiner website try the name combiner for 3 names. Using this name generator, you can get unique names that will be not only striking but appealing. If you want to know more about this 3 Name Combiner Tool, then the following context can help you.
What is the 3 Name Combiner Tool?
The 3 Name Combiner Tool is a very smart application-based website that combines up to three different names to get a new one. The new name you will get through this generator will not only be unique but will still be original to its roots. This depicts that your new name will have a combined meaning with the original names you submitted.


Usually, name-combining websites are not that efficient. They will randomly mix up the name and produce the one that looks ugly & weird. But with our Name Combiner Tool, you are not going to face any problem, it produces striking names having an essence of meaning from the original words or names.
What are the Few Tips to Combine Names?
Combining two names is not that difficult, but the procedure can be pretty hassling when it comes to mixing up three names. The following are a few tips that can help you to mix up names using the 3 Name Combiner Tool.
Try to enter meaningful and striking names in the generator, as their combination generates a catchy and unique name.
Names that have easy pronunciation and contain fewer words are combined better in the generator.
Don't choose a name that lacks meaning and does not make sense.
Ensure the correct spelling of your submitted names. Putting names with incorrect spellings will cause errors in the combined results.
How to Use the 3 Name Combiner Tool?
Using the 3 Name Combiner Tool is easier than some people think. All you have to do is to enter the names in the generator. Ensure that the names you have entered are not too long and have correct spellings.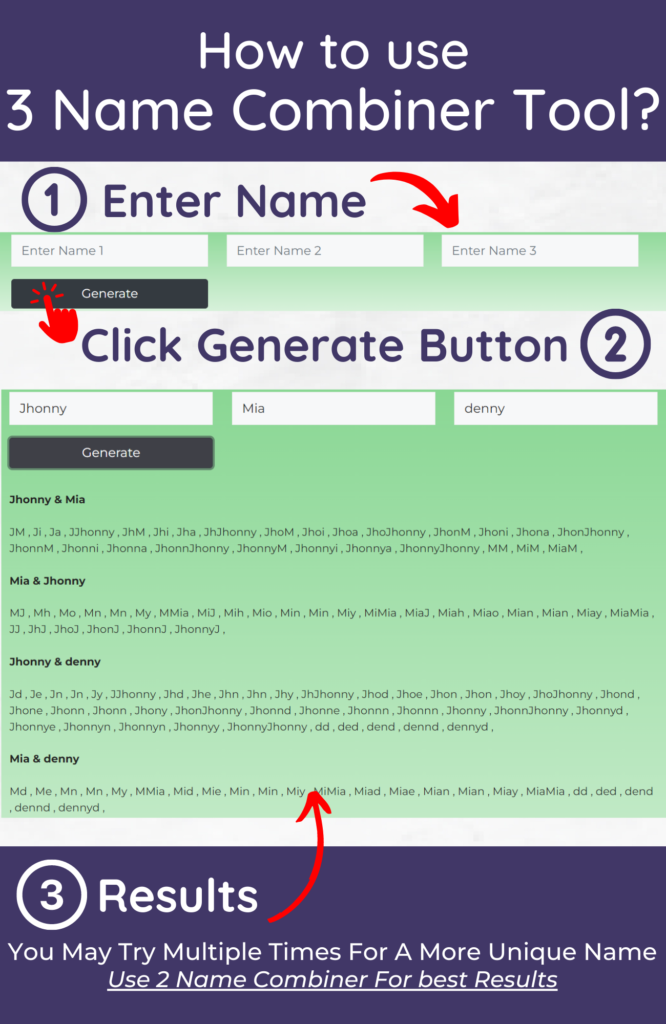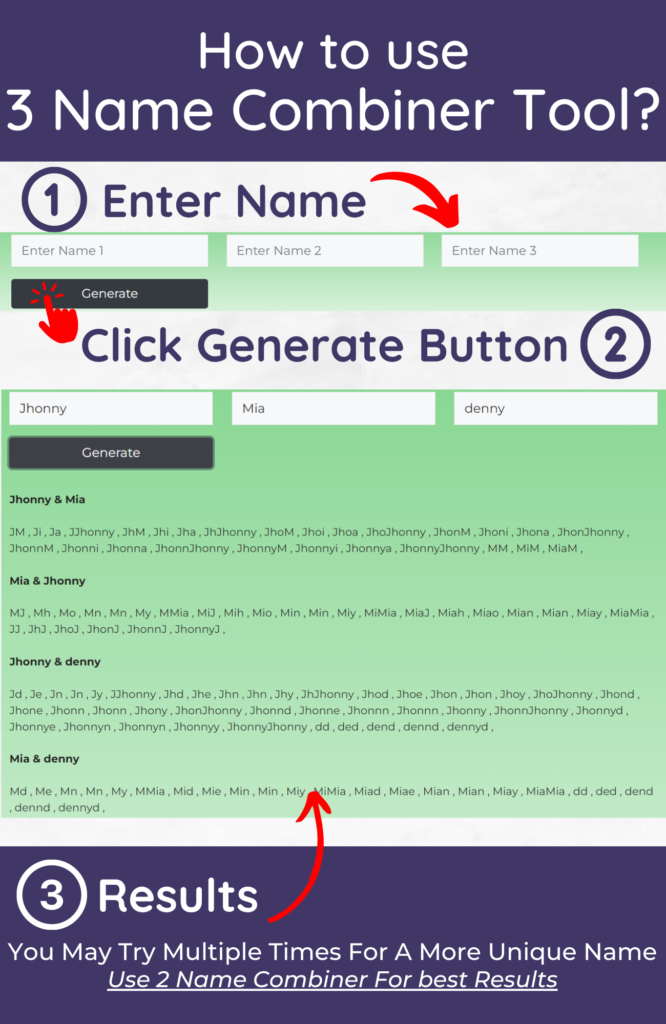 Once you are assured that you have entered the right titles, click the submit button. Within a few seconds, combined names will be generated efficiently. The 3 Name Combiner Tool will provide you with multiple different results. You can shortlist the best ones and use them as you like.
Frequently Asked Questions (FAQs)
How can I combine the couple's names?
Using the 3 Name Combiner, you can efficiently combine a couple's names.
Is 3 Name Combiner Tool free?
Unlike other name-combining applications, the 3 Name Combiner Tool is free to access.
Can you use this application to combine names?
The 3 Name Combiner Tool can combine any name from any language.
Conclusion
Here we conclude our guide to the 3 Name Combiner tool. If you have found it helpful and liked it, please submit your feedback in our comment section.
If you want to combine more than three names, then try our 4 Name Combiner Tool & Ship Name Generator tool for free.